Happy Friday everyone!
Cheers to the weekend. This week has certainly been a busy one, so I am really looking forward to the weekend. It has been so cold here in the city and I  wish that we were having temps back in the 60's and 70's, that is always better then the 20's. But, I should not be complaining as I know that a lot of our country is under blizzard and snow warnings. If you live in those areas I hope that you continue to stay safe and warm. If you are under snow warnings, this could be the weekend in which you get all of your online shopping done! I've found that online shopping is the best way to shop during the holiday season, especially when living in Manhattan.It's better not to be in the crowds of people if you do not have to be. Plus, online stores are always running sales around the holidays and they always include free shipping, which is always an added BONUS!
For today's post I will be sharing with you my five favorite Christmas sweaters. While I own three of them I would like to own the other two as well. While some believe that Christmas Sweaters are tacky, I firmly believe that they are just what the Holiday Season needed! They bring joy and laughter to yourself and others. I know for a fact that when I have ever felt down around the Holidays, I will put one of these adorable sweaters on and I will automatically have a smile on my face. I remember when I was a little girl our mom would always find matching sweaters for all of us to wear and our dad would always hate them, but he wore them anyway and we would always take pictures. Our mom still has those Christmas sweaters and we will still wear them. She has some vintage sweaters from the 80's with the shoulder pads, and those are my favorites which I steel and wear. However, I also have some very stylish and cute Christmas sweaters that look great with the right outfit. Thus, today I will be sharing with you three of the sweaters that I own and two others that I believe are perfect for the season.  All the stores are having SALES, so you will be able to purchase them in time for your upcoming Holiday parties.
Have a great Friday everyone!
xoxoxoxo
Holiday Sweaters
1.) Christmas Sweater – I have this in a size small. This sweater is so comfy and cute. I have paired it with black jeans, a black suede skirt,silver leggings and black booties, which give it a festive and put together look. This sweater comes in sizes S-L.
2.) Christmas Sweater #2 – I LOVE THIS SWEATER! I have this in a size small and I just love how festive it is. Plus, it also looks incredibly cute in pictures. I have only worn this sweater once, but I paired it with black skinny jeans. I think it would look cute with my bronze colored pants, and even a skirt. This sweater comes in sizes S-L. Sadly, I did purchase another Christmas Sweater from Forever 21 that had a LIGHT UP Christmas Tree but they are all sold out :(.
* Forever 21 is taking 30% off Holiday Faves and FREE shipping on all orders over $21.00!!!
3.) Christmas Sweater #3 – Ok, so I do not own this sweater but I swear this looks exactly like the one my mom has from the 80's. I may have taken it and it may be hanging in my closet….but don't worry she knows I took it. Anyway, this sweater is adorable (minus the shoulder pads) and it comes in sizes S-M. This sweater was $34.00 but now you can take an additional 25% off. While I have not paired my Holiday sweater with the dress featured, I have worn it with a tank, a cute sequin skirt, and sequin heels.
4.) Christmas Sweater #4 – I have this sweater in a size small. This sweater comes in 6 different styles and in sizes XS-XL. Due to the fact that this sweater is made of a lightweight material, I pair this sweater with black leggings and oxfords, or flat booties. This sweater is $39.99. When using the code STYLE you will get an additional $25.00 off.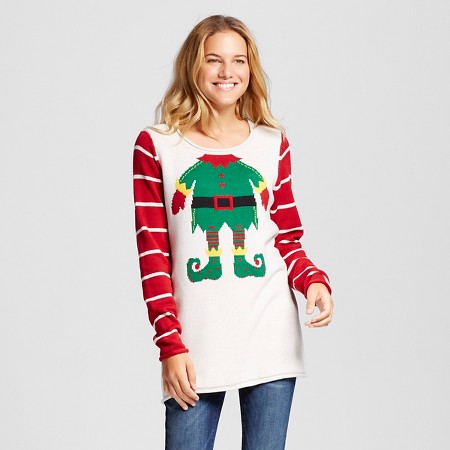 5.) Christmas Sweater #5 – I know some may be a little hesitant to try this trend, but I do own a few men's sweaters. Although I don't own this sweater, I love that they are oversized and that I can dress them up or down. I have a few of my dad's sweaters, as well as some of his Christmas sweaters, that I kept after he passed away. While they bring me comfort, I also believe that men's sweaters are sometimes more comfortable than women's. While I do not own any of these Christmas sweaters yet, I certainly feel that I need to invest in one very soon.